Check out these great ebuyer deals running throughout this week which will save you some money.
Based Discounts recommends:
Asus X102BA Touch Laptop – £289.98
Get a great value laptop in this ebuyer deal.
The ASUS X102BA is a compact and lightweight ultraportable laptop with a 10.1-inch 1366 x 768 display with 10-point multi-touch for responsive fingertip control with Windows 8. The X102BA also features the latest AMD A Series APU and comes bundled with Microsoft Office Home & Student 2013 for high-performance productivity, straight from the box.
The ASUS X102BA features cutting-edge multi-touch technology that surpasses the standards set by Microsoft for Windows 8. With a multi-touch digitizer that recognizes a contact point with a mere 5mm diameter, rather than the Microsoft recommendation of 9mm, the XB102BA offers much more sensitive touch input for precise applications, such as drawing and painting. The X102BA also features a large multi-touch touchpad with gesture support and a keyboard with keys perfectly calibrated for comfortable typing.
More than your expectation! X102BA provides Free Office 2013 Home and Student version with full functions of Word 2013, Excel 2013, PowerPoint 2013 and OneNote 2013. Create, work, plan and share more easily at home and at school.
What it includes:
The latest versions of Word, Excel, PowerPoint, and OneNote.
Office on one PC for household use.
For 1 PC Only.
7 GB of online storage in SkyDrive.
Free Office Web Apps1 for accessing, editing, and sharing documents.
An improved user interface optimised for touch, pen, and keyboard.
Specification:
AMD® Temash Dual core A4-1200 1.0 GHz
4GB DDR3L 1066MHz SDRAM
500GB 5400 RPM 2.5″ 7mm SATA HDD
Windows 8 64bit
10.1″ 16:9 HD Touchscreen 1366 x 768 LED Backlit Panel
AMD Radeon® HD 8180G Graphics
2 -in-1 card reader ( SD/ SDHC/ SDXC/ MMC)
1 Year Manufacturer Warranty
WD 2TB Elements Portable Hard Drive – £84.99
Down from £104.06 in this ebuyer deal, save £19.07.
WD Elements portable hard drives with USB 3.0 offer reliable, high-capacity storage to go, ultra-fast data transfer rates and universal connectivity with USB 2.0 and USB 3.0 devices. The small, lightweight enclosure features massive capacity and WD quality and reliability. It includes a free trial of WD SmartWare Pro backup software for local and cloud backup.
USB 3.0 connectivity delivers maximum performance for transferring files to and from this drive. With up to 2 TB capacity in a lightweight design, this drive is the ideal companion for users on the go. WD Elements portable storage comes with a trial version of WD SmartWare Pro backup software, which allows you to back up your files to your WD Elements drive or to the cloud using your DropBox™ account
With this single drive you get compatibility with the latest USB 3.0 devices and backward compatibility with USB 2.0 devices as well. When your internal hard drive is almost full your PC slows down. Don't delete files. Free up space on your internal hard drive by transferring files to your WD Elements portable storage and get your laptop moving again.
Formatted NTFS and compatible with Windows 8, Windows 7, Windows Vista® or Windows XP. Can be reformatted for Mac®. Western Digital build the drive to their demanding requirements for durability, shock tolerance, and long-term reliability. Then we protect the drive with a durable enclosure designed for style and protection.
Toshiba Encore Tablet PC – £243.99
Get a great value tablet PC in this ebuyer deal.
Toshiba's 20.32 cm (8″) Encore Tablet is everything you need for work and play whether it's browsing the web, enjoying the best of Xbox entertainment with music, games and video or staying productive with Office Home & Student 2013. It's packed with power and performance with the full Windows 8.1 experience, Intel Atom Quad Core processor and a range of connectivity options including expandable storage. InstantGo technology means that Encore goes from standby mode to on in under 300 milliseconds and stays connected to your network to sync your tiles, apps, mails and data even when the tablet is on standby. Encore is also truly optimised for Skype with dual microphones for greater clarity and noise reduction, and built in front and rear HD cameras. All this in a device you can hold and use comfortably in one hand. Toshiba Encore. Get More.
Toshiba's Encore Windows 8.1 tablet has a bright, clear 20.32 cm (8") AutoBrite™ HFFS display with a wide viewing angle and superior screen quality, which makes it ideal for watching movies on the move. With multi-touch support you're ready to enjoy a fully immersive, interactive entertainment experience anywhere – whether you're playing videos or accessing your choice of over 1 million e-books on the tablet's Kindle reader*. Encore is optimised for portrait and landscape views too, so you can see content how it was meant to be seen.
The latest Intel® Atom™ Quad Core processor gives you incredible power and fast performance so you have all the speed you need for more responsive applications, and graphics that really come to life. Internet Explorer 11 provides super-fast, touch-optimised web browsing with much quicker page refreshes. You also get expandable storage of up to 96GB* via microSD card, and if you need more, SkyDrive means files can be stored in the cloud for free, fast access and easy synchronisation with other Windows devices.
Specification:
Intel Atom Quad Core Trail-T Z3740 1.33GHz – Up to 1.86 GHz
2GB DDR3 RAM
32GB Flash Memory
Windows 8.1 Operating System
8" IPS Touchscreen 1280 x 800 Resolution
Dual Microphones with Beam forming technology
Up to 10 hours Battery Life
2.0 mp Front Camera
8.0 mp Full HD rear camera
Cello 32″ DVD IPTV LED (Smart) TV – £239.99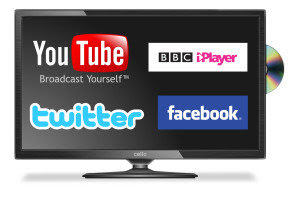 Down from £254.99 in this ebuyer deal, save £15.
This TV allows you to stream catch up TV and web TV channels, such as YouTube and BBC iPlayer, directly to the TV without the need for a set top box or games console.
Connect online via an Ethernet cable (supplied) or Wi-Fi dongle – all that's required is a broadband service. The iViewer is also able to access Blinkbox, Facebook, Twitter. In addition it can access your home computer so pictures stored can be viewed directly through the TV.
Watch Internet based media on the Cello Smart TV. As well as channels such as YouTube and iPlayer the iViewer can access popular social networks and home media files. Integrating a DVD Player into the TV is a great way to combine two units into one neat package. As well as saving space it means less cables and one remote control.
Freeview is a free digital TV service. It provides 50 digital TV channels and 24 radio stations with no need for a subscription. All Cello TVs include Freeview as standard. HDMI connections provide superior, uncompressed digital video and audio quality. Ideal for connecting your TV to devices such as satellite boxes and Blu-ray disc players.
USB recording feature – Simply insert a USB memory stick (not supplied). Highlight the programme to record on the 7 day EPG and press record. You can also pause live TV. Cello HD Ready TVs can display a picture of 1920 by 1080 pixels – well over 2 million – which adds clarity to images never before possible with analogue or standard definition digital.
If you have any questions about these ebuyer deals, or would like to know anything else about these ebuyer deals, please get in touch and feel free to tell us!
Thank you,
Based Discounts