Creative Labs are having a great sale this week focusing on gaming audio. See below for the run down on the deals.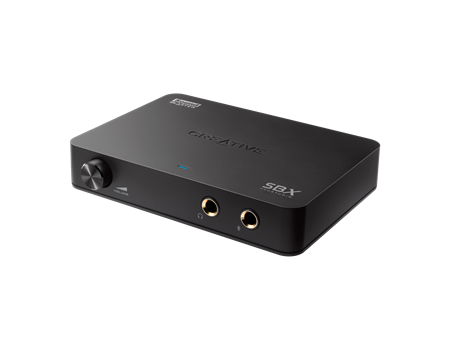 Was £89.99, now £59.99.
The Sound Blaster Digital Music Premium HD is a USB audiophile-grade sound card with premium connectivity for your notebook or PC.
The front panel includes a conveniently located 1/4″ microphone input and 1/4″ headphone jack with a studio quality headphone amp and volume control. The rear panel features optical I/O, gold-plated stereo RCA I/O plus an integrated phono preamp for direct recording of your vinyl collection from your turntable.
The bundled Media Toolbox software lets you record, convert, enhance and organize your digital music files easily while SBX Pro Studio technology brings you the same great audio experience found in live performances, films, and recording studios.
Audiophile-grade components deliver unsurpassed USB sound card audio quality with a signal-to-noise ratio (SNR) of 114dB. Unique SBX Pro Studio technology enhances all of your music, movies and games for maximum enjoyment regardless of your source material.
Phono preamp with RIAA EQ allows direct connection of your turntable to the USB sound card to conveniently convert your vinyl to CDs or MP3s. High quality headphone amp supports studio-quality headphones (e.g. <=330Ohms) for discerning audiophiles.
Gold-plated connectivity for maximum signal quality, easily accessible front-mounted headphone and microphone jacks with convenient volume control. Creative Media Toolbox software allows you to record, playback, cleanup and organize your digital music files easily.
Sound Blaster Omni Surround 5.1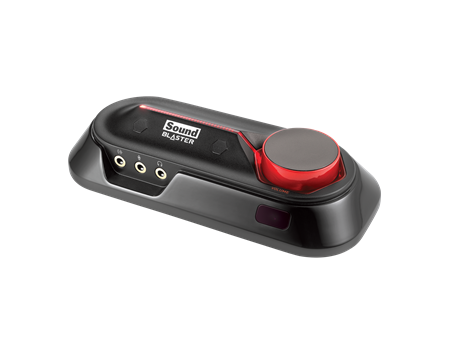 Was £69.99, now £62.99.
Featuring a built-in dual microphone array for crystal-clear voice communication and customizable SBX Pro Studio audio technologies, and a studio-grade 600 ohm headphone amplifier, the Sound Blaster Omni Surround 5.1 is ideal for anyone looking to seriously upgrade their PC or Mac audio experience.
Sound Blaster Omni Surround 5.1 delivers cinematic audio immersion to your PC or Mac through a simple USB port. Powered by SBX Pro Studio technology, the external sound card instantly converts your PC or Mac into a 5.1 entertainment system with amazing positional audio and additional customizable audio effects via the included Sound Blaster Omni Control Panel software. It is also ideal for voice communication and features a built-in dual array microphone that seamlessly integrates with proprietary CrystalVoice technology to deliver amazing voice clarity for chatting or recording. And, if audiophile quality listening is your thing, Sound Blaster Omni Surround 5.1 features a 600-ohm headphone amplifier for studio-grade monitoring.
Easy to install, the USB-powered external sound card only requires a single USB connection to work. That's all there is to it! Enjoy the Sound Blaster cinematic experience, even when using a notebook. Sound Blaster Omni Surround 5.1 supports both PC and Mac, which means you can enjoy the same experience on both platforms.
t's time to level up your audio. Hear the power of Sound Blaster technology on your PC and Mac with SBX Pro Studio and CrystalVoice technologies. Sound Blaster Omni Surround 5.1 features two built-in microphones, which enable the optimal performance of far-field voice input without a headset microphone. These microphones are designed to focus on the user's voice and reduce noise outside that signal.
The external sound card features high-quality, gold-plated RCA stereo and optical digital outputs for the best audio performance, plus convenient microphone and headphone jacks, all in one Sound Blaster package.
Featuring a 600-ohm headphone amplifier, the Sound Blaster Omni Surround 5.1 is ideal for anyone seriously looking to upgrade their PC or Mac audio experience. If you're into gaming as well, Scout mode™ allows you to hear your enemies from further away, so you gain a distinct tactical advantage in combat. Win each battle, every battle!
Sound Blaster Omni Surround 5.1 features Dolby® Digital Live*, an advanced audio technology that delivers 5.1 discrete channels of vibrant surround sound for your digital entertainment, via a single cable.
Sound Blaster Recon3D Omega Wireless Headphones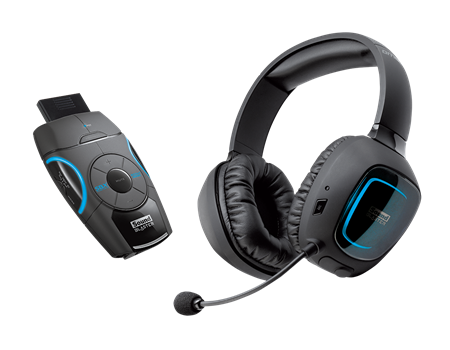 Was £209.99, now £159.99.
Get the ultimate gaming gear that works with your PC, Mac®, Xbox 360®, Playstation® 4 or Playstation® 3. Powered by the Sound Core3D™ multi-core sound and voice processor, the Sound Blaster Recon3D Omega Wireless audio system offers amazing audio processing power previously available only in internal PC audio card solutions.
The revolutionary Sound Core3D Audio and Voice chipset allows for the first time ever the advantages of an internal sound card in an external USB device. Whatever your gaming platform of choice is, legendary Sound Blaster gaming audio is now available.
SBX Pro Studio sound technologies for PC and Mac create unprecedented levels of audio realism that includes stunning surround effects to produce virtual speakers around, above and below you.
The headset features uncompressed wireless technology that delivers lag- and static-free gaming audio from your Xbox 360, PlayStation 3, PlayStation 4, PC or Mac. Stylish, rugged and extremely portable with easy-to-access controls: SBX Pro Studio On/Off, Scout Mode On/Off, Master volume control, Microphone boost (3 settings), Instant Mute, and platform selection.
Scout mode, hear them before they hear you. This proprietary technology allows you to hear your enemies from further away, giving you a distinct tactical advantage in combat. Experience a high-powered, no-holds-barred 3D gaming audio experience with massive bass and detailed highs.
Transform any Dolby Digital 5.1 source into high fidelity immersive surround sound for Xbox 360, Playstation 3, PC, or Mac with the built-in hardware decoder. A steel core headband ensures a precise fit, and offers maximum durability for marathon gameplay. Four separate hardware-accelerated technologies ensure the best possible voice communication:
Easily calibrate your Xbox 360, PS3 game audio by programming your Recon3D on PC or Mac. Welcome the arrival of the latest generation of console gaming! Get yourself ready to experience some unparalleled realistic gaming action by gearing up with the Sound Blaster Recon3D Omega Wireless, compatible with the new Playstation®4 via 4 pole 3.5mm audio connector in analog mode.
If you have any questions about the Creative Labs offers, or would like to know anything else about the Creative Labs offers, please get in touch and feel free to tell us!
Kind Regards,
Based Discounts